Improve efficiency, service and create new business opportunities with Ingenico's Self-Service Solutions.
Ingenico unattended payment solutions help partners and their customers prepare for the future by enabling acceptance of all payment methods, without the need for a cashier or attendant. Our Partner Program is designed for kiosk providers, system integrators, value-added solution providers and gateway providers who want to work together to deliver secure, EMV and NFC-enabled unattended self-service solutions.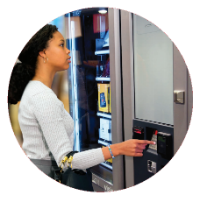 Our secure payment solutions enables businesses to:
Want to learn more about our Self-Service Partner Program? Complete the form on this page and an unattended payments solutions expert will be in touch with you shortly.