Ingenico Insights
Your Source for All Things Payments
The payments industry is constantly evolving. It's important to stay on top of the latest industry news, trends and innovative payment solutions. Subscribe to our monthly newsletter and learn what new technologies and solutions are emerging in the payments industry. By being informed, you'll create new opportunities for your business and your customers.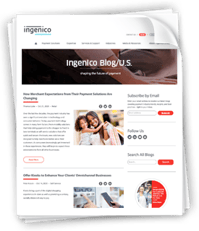 Subscribe to our e-newsletter to receive:
Late-breaking industry news and updates
Details on Ingenico's latest payment innovations
Payment industry trends and best practices
Information on important industry events
Resources such as white papers, webinars and case studies
Links to important details on the upcoming EMV liability shift
Complete the form on this page and start receiving our Ingenico Insights newsletter. We look forward to sharing our industry updates with you.