Secure, sleek and smart for an enhanced checkout experience
As the industry's first and only PCI PTS 5.x certified smart payment terminal and support for semi-integrated configurations, the Lane/7000 makes it easier for merchants to not only become PCI compliant, but also protect their business against cyber-attacks.
Designed for speed and efficiency, the Lane/7000 creates new points of consumer engagement that improves brand loyalty, drives additional sales, and enables you to: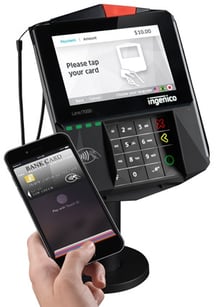 Engage consumers with a large multimedia touchscreen and user-friendly HTML5 interface
Quickly and easily accept multiple payment options to improve checkouts
Integrate simply into any environment
Help reduce PCI-DSS audit scope with seamless semi-integrated configuration options
Increase payment security with the first and only PCI PTS 5.x certified device
Ready to get started? Complete the form on this page to request more information and to have one of our payments experts contact you shortly.