In September 2015, Ingenico Group surveyed 1,000 credit and debit cards users in the U.S. to seek insights into their behaviors regarding card usage, familiarity to EMV chip cards and more.
Download the survey's executive summary to uncover our key findings, including: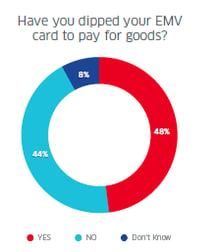 60 percent of U.S. cardholders have received EMV chip cards from their banks card issuers.
48 percent have used their EMV cards
44 percent have yet to use their EMV cards
Only 27 percent of the cardholders who received educational material along with their EMV cards felt that it was helpful.
When it comes to EMV adoption, knowing where we are is a great start to understanding where we need to go. Complete the form on this page to get your copy today.