Although the EMV migration deadline has passed, the confusion and misinformation about what it means for merchants and service providers still remains. Download our ebook and finally put an end to all of the confusion.
We have broken down the EMV liability shift into three short, easy-to-understand chapters, so you can gain clarity on: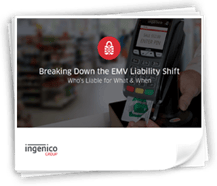 What EMV is and the benefits it provides

What the EMV liability shift actually means

What the risks of not migrating to EMV are

How to initiate the EMV migration process for your business

How the EMV liability shift will impact specific stakeholders in different fraud scenarios
Understanding the EMV liability shift doesn't have to be complicated. Complete the form on this page to download our simple EMV ebook today.